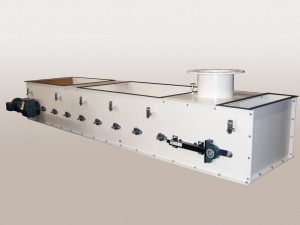 Metalfab Material Handling Systems, LLC, an industry-leading designer and manufacturer of dry solids processing equipment, integrated systems and subsystems, specialty fabrication and related services, has announced availability of their new APB Volumetric Belt Feeder.
Designed for highly accurate +/- 1 to 1 ?% metering of all types of powders, pellets, and agglomerates, the APB is exceptionally well suited for feeding of abrasive or friable materials and materials that have a tendency to smear or compress when being fed by a volumetric source feeder. It is also ideal for the high volume requirements of the chemical and food industries.
Available in 12‰, 24‰, 36‰ or 48‰ belt widths and 36‰, 72‰, 108‰, and 144‰ lengths (extended lengths available), the APB features a ruggedly built, sliding belt assembly and offers feed rates up to 5,800 cu. ft./hr. Standard belt material is neoprene and HYCAR®, Nordel® and Viton® are also available. Construction materials include carbon steel, carbon steel with special coatings, 304 or 316 stainless steel, and drive choices include constant speed motors and AC motors with variable frequency control.
Other standard features include bearings that are sealed and located outboard to prevent contamination; skirt boards and adjustable belt tensioners; belt scrapers to prevent material buildup on the belt surface and ensure complete discharge of material from the belt; and an AC Variable Frequency motor. Other motor options are available.
For more information, call toll free 1-800-764-2999; Fax: 973-764-0272, e-mail: sales@metalfabMHS.com