"Better Weigh"® Continuous Weigh Feeders Control
For gain, loss or continuous weighing applications
Overview
Metalfab "Better-Weigh®" Feeder Controls are available with a "Gain in Weight" mode for applications where a product is being fed into a scale system such as a container sitting on a floor/bench scale or weigh hopper on load cells. In this mode, the controller can verify the zero setting between weighments, auto-tare the weight of a container, verify the container is in position by referencing the container weight setting, or a band value plus or minus to confirm an empty container is in place prior to start of feeding.
A "Loss-in-Weight" mode can be provided for applications where the feeding device is on load cells or a scale system of some type. This mode is used when one or more products need to feed into a process simultaneously, allowing all feeders to dispense product at the same time.
A "Continuous Weighing" mode is provided to continually feed product at a preset rate on a per-second, per-minute, or per-hour basis. Refilling of the feeder can be automatic through input of minimum and maximum weight values to the controller.
Features/Benefits
Automatic batching or continuous feed rate control
Automatic feed rate optimization for fast and slow speed settings as well as dribble point determination are performed automatically
Automatic pre-act (material in suspension compensation) adjustment
Automatic JOG feature to bring batch into tolerance
Analog output to represent weight or feed rate as standard
Additional Analog outputs available for weight or feed rate as needed
Batch history (or rate logging) to archive the previous 200 records. Rate logging can be set for time intervals as needed
System alarm output
Security includes two levels of password protection
Tolerance checking with different parameters for under and over tolerance settings
Remote start and stop contacts provided
Can "Abort" or "Resume" a batch after E-stop
Standard unit includes 12 outputs and 12 inputs to control equipment. Some are preprogrammed for specific applications
Analog input options available for remote entry of batch size or feed rate from remote PLC or DCS
Communication options include but are not limited to: Ethernet I/P, Device Net, DH Plus, DH-485, DF1 Half, and DF1 Full Duplex
Please Note: Custom programming can be provided to control additional upstream or downstream equipment as needed.
Operating Characteristics
Handles powders, pellets, flakes, and other dry materials where it is necessary to determine actual feed rates on a loss-of-weight basis
Specifications
Dimensions
Model BWP/L "Better Weigh"® Batch Feeder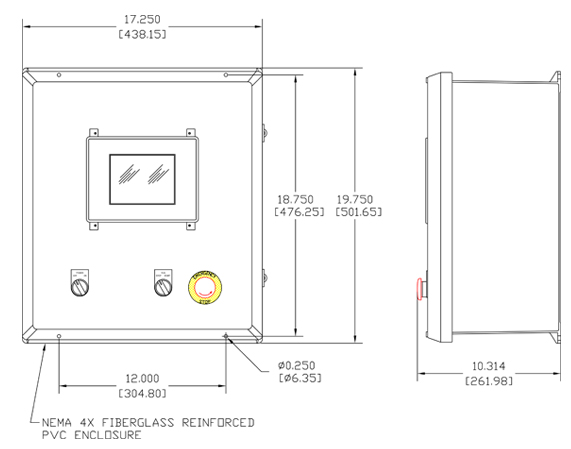 Enclosure: NEMA 4X
Display Type: 6" Color, TFT, QVGA touch screen
Screen Pixels: 320x240
Power: 120 VAC @ 2 Amp 1 ph 50/60 Hz (does not include product feeder) Typical consumption 0.30 Amp @ 120 VAC (36 W)
Operating Temperature: 32 to 113°F (0 to 45°C)
PLC Type: Allen Bradley