Metalfab MT MetaTech™ Screw Feeders
For simple, economical, & highly reliable feeding of dry bulk materials
Overview
Metalfab's ruggedly built MetaTech Feeder features a compact, space-saving design, low maintenance direct drive, and new Delrin® bushing for highly accurate and dependable metering of powders, pellets, flakes, and agglomerates.
Features/Benefits
Only 2 moving parts (Drive and Screw)

Ensures reliable, long lasting performance with minimal process downtime

O-Ring Sealed Inline Drive

Ensures dust-free operation and makes screw shaft alignment easy after changeout or cleaning.

Teflon® Pacing Gland Rear Seal Standard
Unique Agitator/Conditioner Screw

Maintains consistent product density completely filling the feed screw for highly accurate ±1 to 1-½% feeding.

Interchangeable Screw/Tube Combinations

Available in 1/2" to 6" sizes and permit feed rates from 0.05 to 550 cu. ft./hr.

Wide Range of Models

Includes space-saving mini, sanitary, and combination feeder/conveyor units

All Metalfab Volumetric Screw Feeders feature Metalfab's rugged design and unique agitator/conditioner screw. In operation, the agitator/conditioner screw begins to move materials forward in the feeder's trough. Since the agitator/conditioner screws are larger in diameter than the metering (feeding) screw and of wire configuration, they carry a greater capacity than the metering screw, allowing material to flow through and around it. This 360° influence of material forces entrained air up and out of the metering area and force feeds material into the flights of the metering screw to ensure they are completely full with uniformly dense material.
Motor - AC Variable Frequency drive is standard. Options available.

Operating Characteristics
Provides highly accurate, dependable metering of powders, pellets, flakes and agglomerates
Ruggedly built for continuous, long-lasting operation
Specifications
Dimensions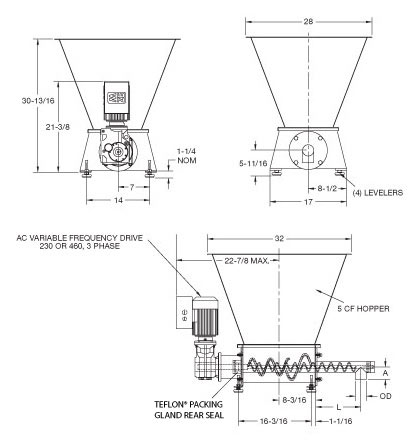 Model
Feed Rate Max
(cu ft/hr)
"L"
"A"
"OD"
"HP"
MT-3/4
1
8"
2"
1"
3/4
MT-1
3
8"
2 3/4"
1 1/2"
3/4
MT-1 1/2
8
8"
2 3/4"
2"
3/4
MT-2
20
8"
3"
2 1/2"
3/4
MT-3
60
12"
3 1/4"
3 1/2"
1
MT-4
175
14"
3 3/4"
4 1/2"
1
MT-6
550
21"
4 3/4"
6 5/8"
1
Construction
All metal contact parts are available in a choice of carbon steel, epoxy coated carbon steel, 304 stainless steel or 316 stainless steel. Carbon steel exterior primed and painted blue enamel. Stainless steel units provided with 2B mill finish.
Drive Motor-HP may vary depending upon material and feed requirements