PLBB Posibin™
Overview
The Metalfab PLBB Posibin™ is a low vibration transmission (LVT) bin activator that utilizes threaded rod isolators as hanger arms to reduce vibration.
Ideal for use with sensitive scaling systems and equipment, or for loss in weight gravimetric feeding, the PLBB Posibin consists of a smaller size static cylindrical bin fitted with the LVT bin activator. This low vibration motorized unit provides continuous movement of the product in the bin. A conical primary baffle, mounted within the LVT bin activator, moves horizontally with the unit to keep the contents in continuous motion to ensure uninterrupted flow of material on demand, and eliminate potential flow stoppages.
A secondary, adjustable baffle located at the final outlet, moves at a slightly different amplitude to prevent jamming and compaction in the outlet area.
Five PLBB Posibin™ models with capacities from 3 to 15 cu.ft. handle bulk densities from 20 to 30 cu.ft. Operation is almost completely noiseless.
Features/Benefits
Diameters: Five (5) models 20" to 30"
Capacity: 3 to 15 cu. ft.
Bulk Density: To 50 lbs./cu. ft.
Operating Characteristics
Provide positive, problem-free discharge of a wide range of difficult to handle materials in a variety of densities and particle sizes
Specifications
Dimensions
Posibin 5 to 15 cu. ft. capacity
Model
Capacity
BD
OD
A
B
C
D
E
F
HP
PLBB 20-3
3FT3
20
23
7 1/2
22
41
23 1/2
26 1/2
16 7/8
1/2
PLBB 20-5
5FT3
20
23
19 1/2
34
53
23 1/2
26 1/2
16 7/8
1/2
PLBB 24-8
8FT3
24
28
19
34 1/2
53
28
31 1/2
19 3/4
1/2
PLBB 28-10
10FT3
28
32
16
32
51
32
35 1/2
21 3/4
1/2
PLBB 30-15
15FT3
30
34
24 1/2
41
60
34
37 1/2
22 3/4
1/2
PLBB Model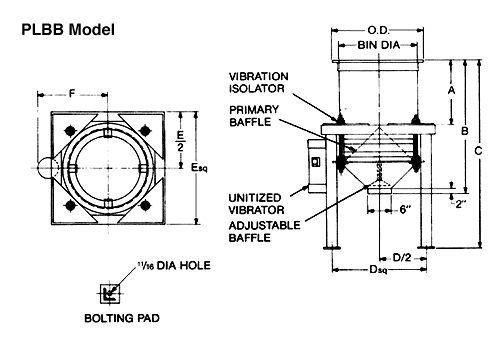 Construction
Carbon steel, 304 or 316 stainless steel, special coatings
Features/Benefits
Uses low vibration transmission (LVT) bin activator. Ideal for use with sensitive scaling systems and equipment or for loss in weight gravimetric feeding
Available Options
Other Metalfab upstream/downstream feeders, Convey-All Conveyors, bulk bag unloaders and hoppers