Integrated Systems and SubSystems
Overview
Integrated Solutions for a Wide Range of Storage, Conveying, Feeding, Processing, Blending, and Filling Applications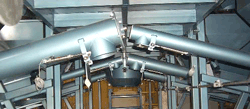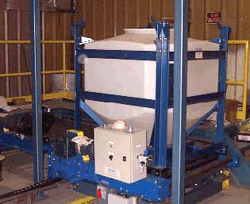 Experience That Says We've Been There and Done That
Looking for a dedicated system to handle batching operations, or a complete system designed to regulate flow or meter discharge of product into a continuous process? Metalfab has the engineering experience and upstream/downstream equipment to meet most dry bulk solids material handling needs.
Should continuous feeding by volume be a requirement, a Metalfab Posibin™, Bin Activator, or Bulk Bag Unloader can be positioned upstream for trouble-free discharge of product into any Metalfab screw feeder. Hoppers on the feeders can be sized to handle product discharge without interruption of product feed.
Should feeding by weight be a requirement, a Metalfab "Better-Weigh®" Gain-in-Weight/Loss-in-Weight Feeder can be paired with a "Better-Weigh®" Controller to provide automatic feeding of product in batch or continuous mode. These sophisticated controls feature our easy-to-use touch screen with graphic display, automated feed rate optimization, discharge with batch histories, and multiple security levels with alarm/warning system.
A Metalfab Convey-All™ Flexible Screw Conveyor and CB1 Continuous Mixer can then be positioned downstream of the feeder's discharge outlet to move product into a process stream, storage container, bulk bag, drum, tote, multi-wall bulk box, or filling equipment.
A Wide Range of Dry Bulk Material Handling Equipment, Ancillary Components, Controls, and Steel Supporting Structure
Metalfab integrated systems and subsystems - inclusive of all major and ancillary equipment, controls, and steel supporting structure - can be configured to exact customer application and plant footprint requirements.
Metalfab offers a wide range of dry bulk material handling equipment choices including "Better-Weigh®" Gravimetric Weigh Feeders, "Better-Weigh&reg" Feeder Controls for gain, loss or continuous weighing applications, MetaTech™ Volumetric Screw Feeders, MTP Screw Feeders for difficult to feed materials, high volume MTL Feeders and MTS Sanitary Volumetric Screw Feeders, MTM Compact and Miniature Volumetric Screw Feeders, Standard and Sanitary Bin Activators, Posibins™ and Live Bins, Pre-Steamers/Dischargers, Bulk Bag Fillers, Bulk Bag Unloaders, Convey-All™ - FSC Flexible Screw Conveyors and VTC-Vibrating Tube Conveyors, Continuous Mixers, Volumetric and Gravimetric Belt Feeders and Hoppers.
Available ancillary equipment choices include rotary, iris, and slide gate valves, diverter valves, level controls, bucket elevators, and pneumatic conveyors.
Steel supporting structure is designed, engineered, and fabricated to suit plant footprint requirements, provide primary support for the entire system or subsystem, and deliver years of rugged, reliable, and safe operating service. Constructed from carbon steel, supporting structures are primed and painted to protect against harsh operating environments.
Completely Engineered Solutions to Suit Virtually Any Dry Bulk Material Handling Need
Over the years, Metalfab has designed and engineered dry solids handling solutions to meet a diverse range of customer specified processing requirements. A sampling of some of these engineered solutions includes systems and subsystems for:
Continuous gravimetric or volumetric feeding, minor or multiple ingredient feeding, or feeding based on recipe
Regulating flow or metering product discharge into a continuous process
Continuous blending or batching by weight or volume
Feeding and conveying, or bulk container filling and emptying
PLC control systems
And many others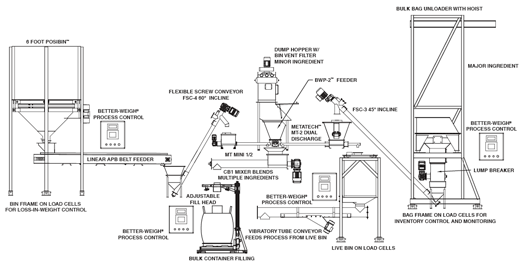 Sample artwork configuration showing the wide range of available Metalfab equipment that can be integrated into a complete dry solids material handling system or subsystem.