PB: Posibin™
Overview
The Metalfab PB Posibin™ provides positive, problem-free discharge from storage of a wide range of difficult to handle materials - in a variety of densities and particle sizes. From micron-size powders to fibrous substances, materials flow freely, on demand, on a first-in, first-out basis.
The PB Posibin consists of a static cylindrical bin fitted with the unique Metalfab Bin Activator. This vibrating motorized unit, attached to the bottom of the static bin by vibration isolator-equipped solid steel suspension arms and flexible reinforced sleeve, provides continuous movement of the product in the bin. A conical primary baffle, mounted within the bin activator moves horizontally with the unit to keep the contents in continuous motion and eliminate potential flow-stoppages such as bridging, rat holing, etc.
An adjustable secondary conical baffle, located at the final outlet, moves at a slightly different amplitude to prevent jamming and compaction in that critical area.
Two PB Posibin models, with capacities from 3 to 750 cu. ft., handle materials with bulk densities to 200 lbs/cu. ft. The largest units are ruggedly mounted to the static bin by solid, carbon steel hangers capable of supporting more than 500,000 lbs. The Posibin may also be hung from overhead steel. Operation is almost completely noiseless.
Features/Benefits
Diameters: 16 models from 3' to 8'
Capacity: 25 to 750 cu. ft and up
Bulk Density: To 50 lbs./cu. ft.
Operating Characteristics
Provide positive, problem-free discharge of a wide range of difficult to handle materials in a variety of densities and particle sizes
Specifications
Dimensions
Posibin 25 to 750 cu. ft. capacity
Model
A
B
C
D
E
F
G
H
I
J
HP
PB 3-25
36
36
58 5/8
20 7/8
40
83 5/8
21 1/2
31 3/8
5
7
1 1/2
PB 3-50
36
72
94 5/8
20 7/8
40
119 5/8
21 1/2
31 3/8
5
7
1 1/2
PB 4-50
48
42
71 1/2
21 7/8
52
96 1/2
27 1/2
37 3/4
5
7
1 1/2
PB 4-75
48
70
99 1/2
21 1/8
52
124 1/2
27 1/2
37 3/4
5
7
1 1/2
PB 4-100
48
85
114 1/2
21 1/8
52
139 1/2
27 1/2
37 3/4
5
7
1 1/2
PB 5-100
60
54
90 3/16
21 1/2
64
115 3/16
33 1/2
43 3/4
5
7
1 1/2
PB 5-150
60
84
120 3/6
21 1/2
64
145 3/16
33 1/2
43 3/4
5
7
1 1/2
PB 5-200
60
114
150 3/16
21 1/2
64
175 3/16
33 1/2
43 3/4
5
7
1 1/2
PB 6-200
72
78
121 1/8
23
78
146 1/8
41
50 1/2
7
9
3
PB 6-250
72
96
139 1/8
23
78
164 1/8
41
50 1/2
7
9
3
PB 6-300
72
116
159 1/8
23
78
184 1/8
41
50 1/2
7
9
3
PB 7-300
84
88
138
23
90
163
47
56 1/2
7
9
3
PB 7-350
84
102
152
23
90
177
47
56 1/2
7
9
3
PB 7-400
84
106
156
23
90
181
47
56 1/2
7
9
3
PB 8-500
96
99
155 7/8
31
102
180 7/8
53
65 3/8
7
9
3
PB 8-750
96
162
219
31
102
244
53
65 3/8
7
9
3
PB Model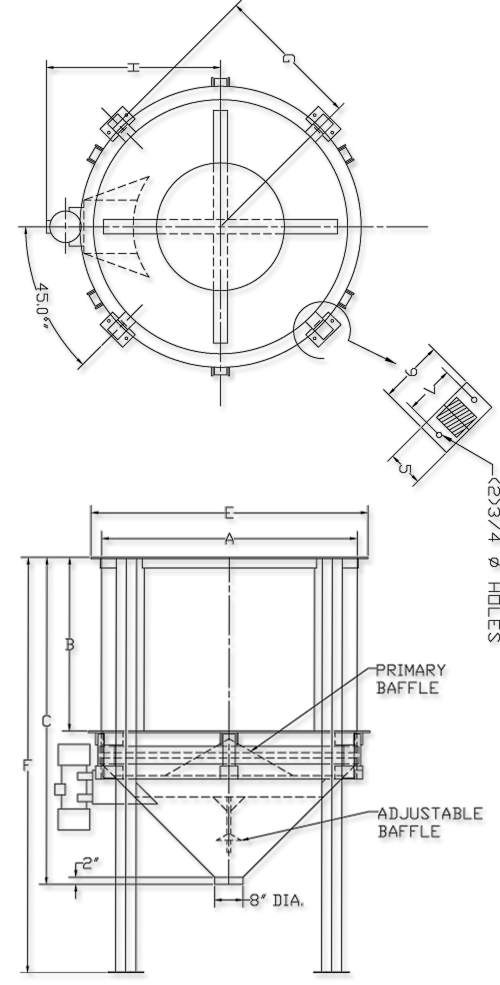 Construction
Carbon steel, 304 or 316 stainless steel, bins with full size bin activators, special coatings
Features/Benefits
Full size bin activator ensures product flow with even the toughest materials
Available Options
Other Metalfab upstream/downstream feeders, Convey-All Conveyors, bulk bag unloaders and hoppers