Bulk Bag Unloaders
Overview
Metalfab Bulk Bag Unloaders are designed and engineered to provide a dependable, low cost means for emptying a wide variety of powders and other difficult to handle dry bulk materials. Metalfab manufactures units for heavier bags, larger bags, or smaller bags.
To assure discharge of product, the ruggedly built 48" sq. pyramidal shaped Unloader is mounted on wear-resistant rubber isolators that eliminate any transmission of vibration to the support stand or surroundings. Solidly mounted to the Bulk Bag Unloader is a time-tested, field-proven, Metalfab Vibrator. This Vibrator can be adjusted to provide varying levels of vibration, as needed, to discharge product from the bag. All of our Unloader Vibrators are ruggedly built to withstand the rigors of vibration and all are totally enclosed, non-ventilated and are also available in an explosion proof enclosure.
While voltage can vary by request, all vibrators are three (3) phase. They provide years of maintenance-free operation and come with a Metalfab guarantee for 30 months.
Metalfab bulk bag unloaders are not only dependable but versatile as well. They are available as a standard model with support and bag rack, or as a hoist rack model with hoist hook and four (4) stationary posts to hold bag straps. Liner retractors, special closure gates and many other options are also available.
Features/Benefits
Rugged, Durable Construction: field proven over hundreds of applications with virtually no downtime
Forklift or Hoist Rack Models: accept any size or style bags and loads whether using a forklift or overhead hoist
Reliable Integral Vibrator: induces the product to flow and is isolated from the frame by wear resistant, rubber bushings
Thick Inlet Seal: seals the bag to prevent dust particles from escaping
Simple One-Man Operation: empties up to 4,000 lbs. Of bulk material where and when you need it.
Versatile Design: accommodates other Metalfab downstream feeders, bin activators, Convey-All™ FSC-Flexible Screw Conveyors, VTC-Vibratory Screw Conveyors, Posibins™, and hoppers
Operating Characteristics
Handles powders and difficult to handle dry bulk materials from lined and unlined bags and flexible, interchangeable bulk containers up to 3,300 lbs.
Specifications
Dimensions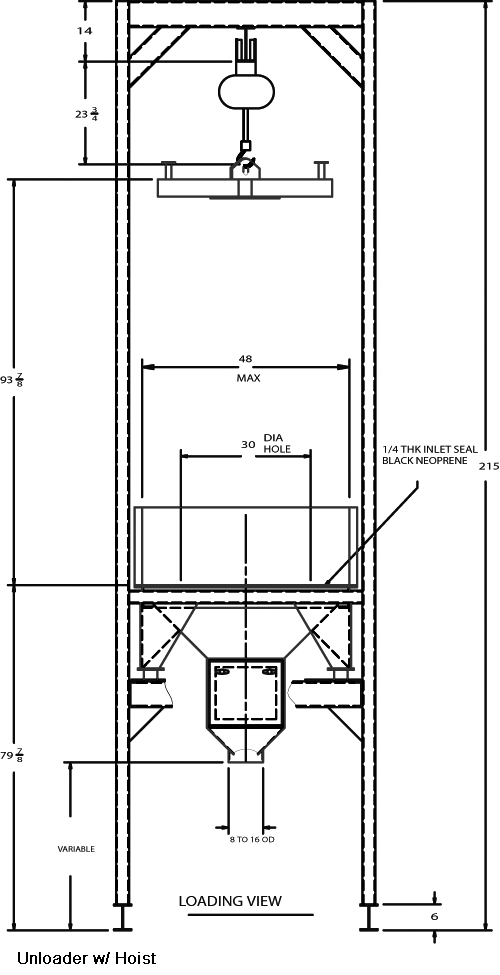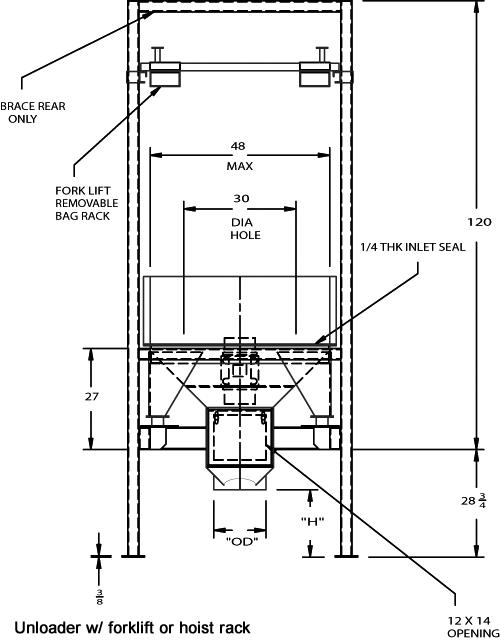 | OD | H |
| --- | --- |
| 8 | 16 |
| 10 | 16-1/2 |
| 12 | 17-1/4 |
| 14 | 18 |
| 16 | 18-1/2 |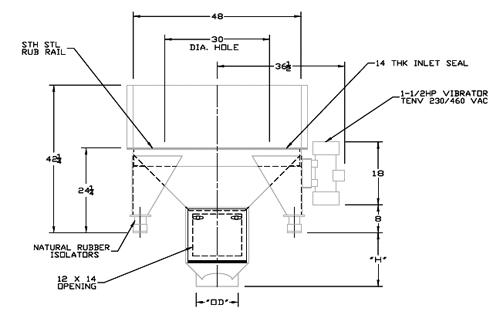 | OD | H |
| --- | --- |
| 8 | 16-5/8 |
| 10 | 16-1/8 |
| 12 | 15-3/8 |
| 14 | 14-5/8 |
| 16 | 14-1/8 |
Construction
Carbon steel or stainless steel, with or without a hoist frame
Available Options
Other Metalfab upstream/downstream feeders, bin activators, Convey-All™ Conveyors, PosiBins™ and hoppers