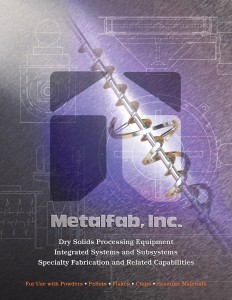 Metalfab Material Handling Systems, LLC, an industry-leading designer and manufacturer of dry solids processing equipment, integrated systems and subsystems, specialty fabrication and related services, has announced availability of a new brochure that provides an overview of the company's extensive line of products and services available to the chemical processing, power generation, food, pet food, water treatment, foundry, pulp & paper, oil & gas, and plastics industries.
The first section of the brochure provides quick feature, size, capacity, operation, and material of construction information for the company's line of dry solids processing equipment including bin activators/bin dischargers; pre-steamer bin activators; Posibins, live bins, static bins, and portable bin unloaders; Better-Weigh® gravimetric feeders/controls, MetaTech volumetric feeders, CB1 continuous mixer/blenders; volumetric screw feeders, sanitary feeders and belt feeders; bulk bag unloaders; Convey-All flexible screw and vibratory tube conveyors; standard screw and U-trough conveyors; and bag dump hoppers, automatic bag slitters, spin loaders, and wetting cones.
Another section is dedicated to Metalfab's integrated systems and subsystems for a wide range of dry solids processing applications such as  material bulk storage in a silo or bulk bag; continuous gravimetric or volumetric loss-in-weight feeding, minor or multiple ingredient feeding, batch feeding, or gain-in-weight feeding based on recipe, continuous blending or batching by weight or volume, and many others.
A final section is dedicated to the company's specialty fabrication and related services for the power generation and many other industries, along with a complete list of in-house design, and engineering, and fabrication services; electrical and controls engineering; materials capabilities; metal forming and metalworking equipment; and state-of-the-art cutting equipment.
For a Free copy and more information, call toll free 1-800-764-2999; Fax: 973-764-0272, e-mail:  sales@metalfabMHS.com.