New Metalfab Spin Loader Completely Loads Storage Bins and Hoppers, Virtually Eliminates Particle Separation, and Saves Time and Labor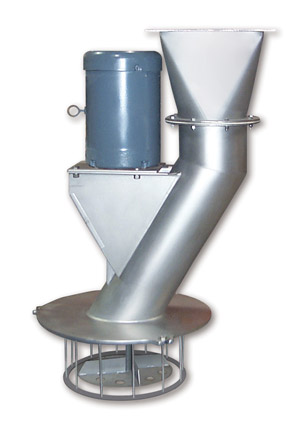 Metalfab MHS, LLC, an industry-leading designer and manufacturer of dry solids processing equipment, integrated systems and subsystems, specialty fabrication and related services, has announced availability of their new Spin Loader.
Available in two carbon steel models (SL100, 8 5/8" dia. Inlet with a 2 HP motor) and (SL200, 10 ≤" dia. Inlet with a 5 HP motor), the Spin Loader allows utilization of bulk storage facilities to their fullest capacity while eliminating the pyramiding which occurs when flakes and granular materials are loaded into bins, hopper cars, and piles. It also enables loading of up to 15% more product into virtually any storage facility evenly in a 360° arc without costly hand labor or interruption of flow.
Simple to install and easy to operate, the compact, ruggedly-built Spin Loader can handle up to 200,000 lbs. per hour of 90 lbs. per cubic foot material. It can be mounted to the top of the bin or attached to a flexible loading spout and placed inside or over the bin itself.
The entering material flows through the Spin Loader's tube to a motorized, spinning disc which directs it to the outer walls of the bin, allowing each bin or compartment to be filled to its maximum capacity. This method of redirecting the particles greatly reduces the possibility of particle separation while allowing the particles to intermix. And since the entire loading system may be completely enclosed, product waste and contamination are eliminated.
Get more information and technical specifications for the Metalfab Spin Loader here.
For more information and a FREE test using your materials, call toll free: 1-800-764-2999, Fax: 973-764-0272, e-mail: sales@metalfabMHS.com