Newly Redesigned Metatech Volumetric Feeder Features Only 2 Moving Parts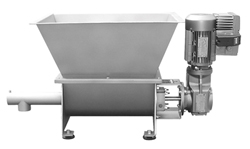 Metalfab MHS, LLC, a leading manufacturer of integrated dry solids processing systems and equipment, has announced availability of their newly redesigned MetaTech Feeder for simple, economical, and highly reliable feeding of dry bulk materials.
The new design features only 2 moving parts (drive and screw) to ensure years of reliable, long lasting performance with minimal process downtime and maintenance expense. The feeder also features a compact, space-saving design, low maintenance o-ring sealed inline direct drive, new Delrin® bushing, and unique agitator/conditioner screw to maintain consistent product density and completely fill the feed screw for highly accurate (±1 to 1 1/2%) feeding.
Interchangeable Screw/Tube combinations are available in 1/2"-6" sizes and permit feed rates from 0.05 to 550 cu.ft./hr. MetaTech feeders are also available in a wide range of models including space-saving mini, sanitary, and combination feeder/conveyor units.
For more information and a FREE test using your materials, call toll free: 1-800-764-2999, Fax: 973-764-0272, e-mail: sales@metalfabMHS.com
®Delrin is a trademark of DuPont