Metalfab Water and Wastewater Systems Suitable for a Wide Range of Treatment Applications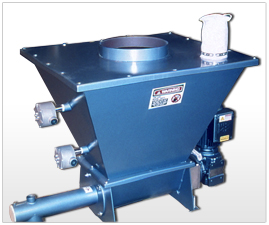 Metalfab Water and Wastewater Treatment Systems combine a rugged, durable Bin Activator with a secondary baffle that vibrates at a separate amplitude to guarantee continuous flow of product, and a MetaTech™ Feeder (with only 2 or 3 moving parts for simple maintenance) and unique agitator/conditioner screw that completely fills the product feed screw for accuracies of +1 to 11⁄2%.
Bin Activators are available in 2'-16' dia. and MetaTech Feeders are available in 1"-6" screw sizes in a choice of carbon steel, 304 or 316ss. Systems inclusive of all ancillary equipment and controls can be configured to meet any water/wastewater treatment requirement.
In the application pictured, powdered limestone with a bulk density of 85 lbs./cu. ft. is being discharged from a silo fitted with a Metalfab 5' Bin Activator that is connected by a flexible sleeve to the 5 cu. ft. hopper of a MetaTech MT-3 with Level Probes. The MetaTech feeds the powdered limestone at a rate of 30 cu. ft. per hour into a slurry tank. The level probes control the on/off operation of the Bin Activator. The resulting slurry is then used to treat and adjust the pH of the downstream water.